Every Calf35 system is equipped with an online portal.
Various user levels enable the observation of the milking facility, configure it remotely or view extensive statistics. The complete configuration, monitoring and analysis can be done on any internet enabled device – on site, at home or in the office. In the plant overview, the pressure conditions of all the milking posts can be displayed live in a bar chart at the same time. Deviations are detected immediately and the concerned people, such as farmer, installer or service personnel automatically can receive notifications with the error message.

This way, irregularities can be resolved within minutes and impairments to milking or herd health can be avoided. This solution enables unprecedented, permanent control when milking the cows. Pressures and pressure changes are fundamental to milking a cow. The Calf35 system live monitors the milking, the pressures and timing of those pressures which are applied to the cows teat. Calf35 uses pressure common to the cow and therefore the cow feels no stress with the Calf35 milking process. In order to ensure consistency, the Calf35 system includes live remote monitoring.
Configuration
The online portal supports the fitter during the initial set up of the Calf35 system thanks to the high precision measurement technology of the controller and the muzzle. Fault or leakage can be sourced and fixed instantly. All parameters are set via the web interface – cycles per minute, display of the controller and many more. There are no complicated and confusing small displays with few buttons. Instead the operating happens directly on a PC, tablet or mobile phone.
Monitoring
Every milking post is surveyed in real time whilst milking. As soon as a deviation is detected, all concerning people (fitter, farmer...) receive a notification with a detailed error description. That way irregularities in the milking process can be identified instantly and solved within minutes.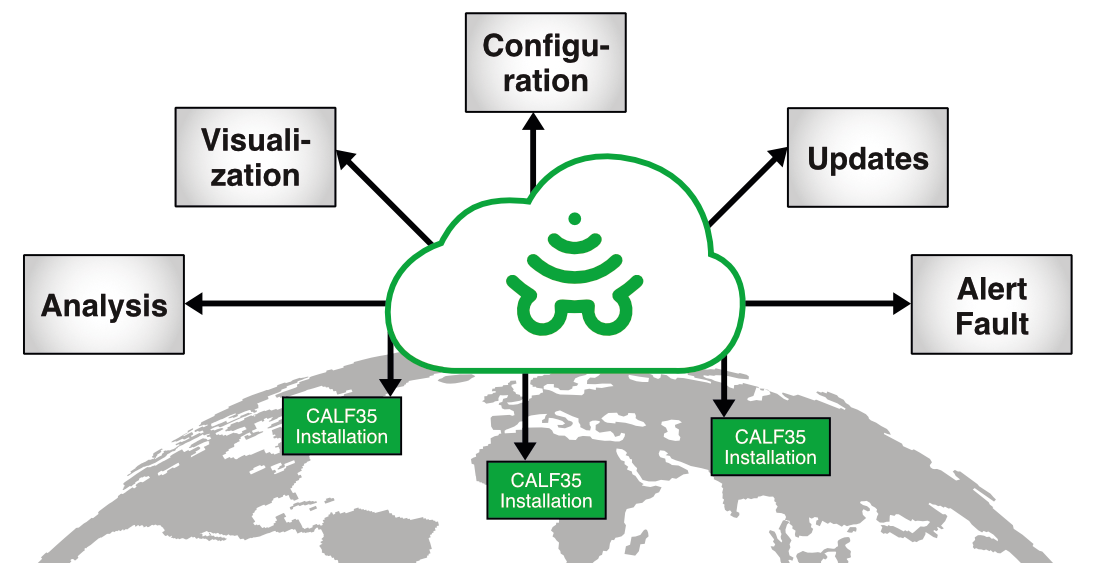 Analysis
Each milking post can be precisely analyzed thanks to the Calf35 system, e.g. the vacuum level, pressure level, phase times or curve progression. All these values can be watched live during milking.
Individual measurements at the milking stand for the control of ISO standards belong to the past now. The web tool displays all relevant values and parameters at any time.
Demo Accounts
Convince yourself of the magnitude of the software. Just log in to our virtual farm, either as a fitter to see the farm administration and farm configuration, or as a farmer to see an exemplary 2x5 milking parlor in the milking process.
Call us, to get your personal demo access.
Manual Testing
The pulsation can of course also be checked with a handheld test tool as an alternative to the integrated monitoring function. The pressure measuring system developed especially for Calf35 precisely detects the negative pressure and positive pressure on the liner. A 3-digit 7-segment display shows the maximum, average and minimum pressure. The A, B, C and D phases and the pulsation rate are determined and displayed.